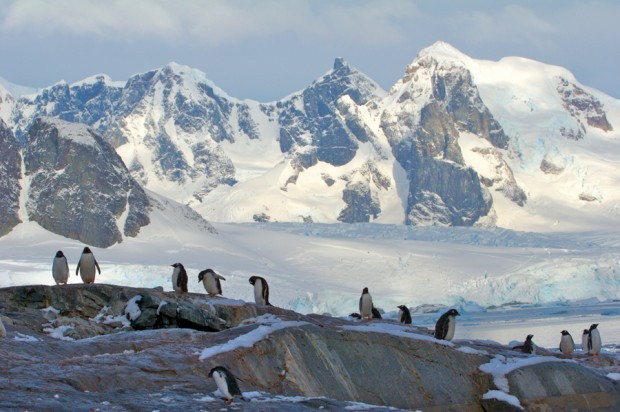 Antartica
Photo by Cheryl Arnold Moseley
Penguins in Antartica.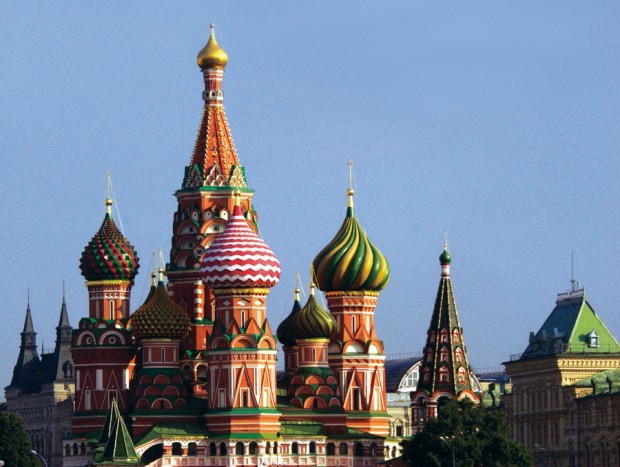 Moscow
Photo by Cheryl Arnold Moseley
St. Basil's Cathedral, Moscow.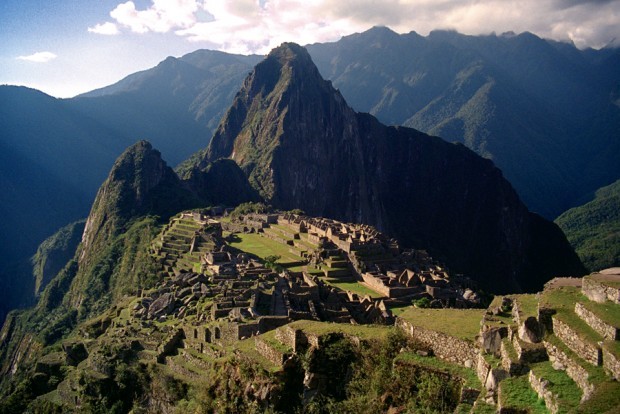 Peru
Photo by Cheryl Arnold Moseley
Machu Picchu, Peru.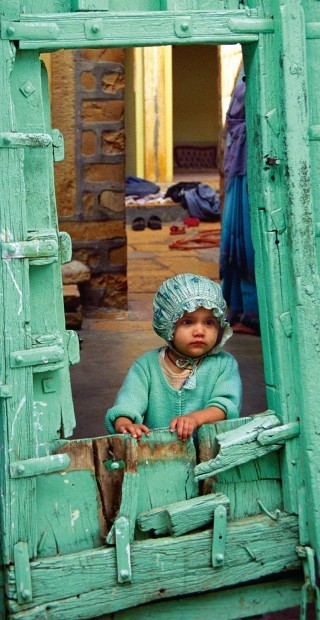 India
Photo by Cheryl Arnold Moseley
Baby in India.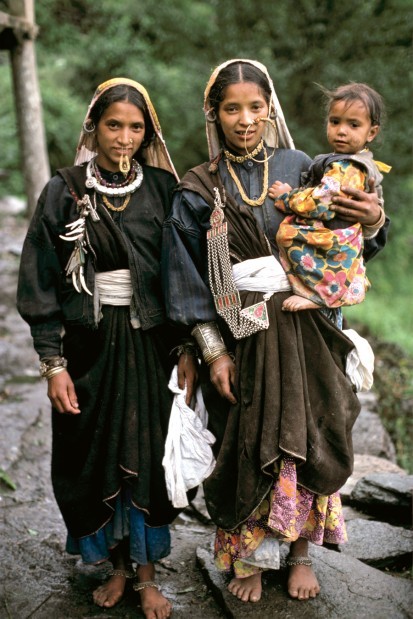 Neti and Asari
Photo by Cheryl Arnold Moseley
Neti and Asari stand barefoot, posing with a dirty-faced baby in a bright, flowered dress.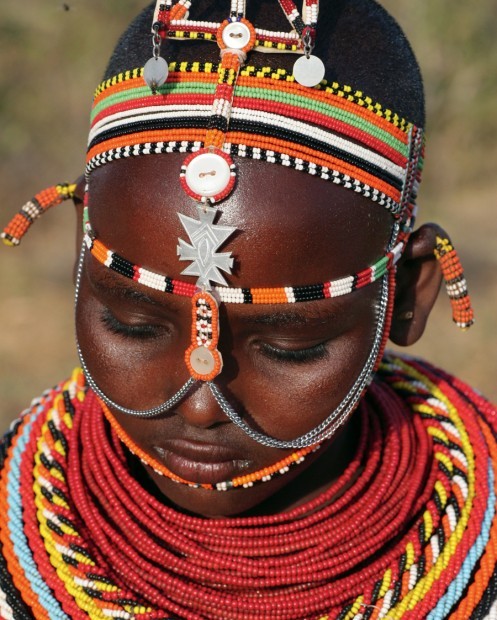 Africa
Photo by Cheryl Arnold Moseley
Africa Kenyan Samburu shyness of teenage girl, dressed for courtship.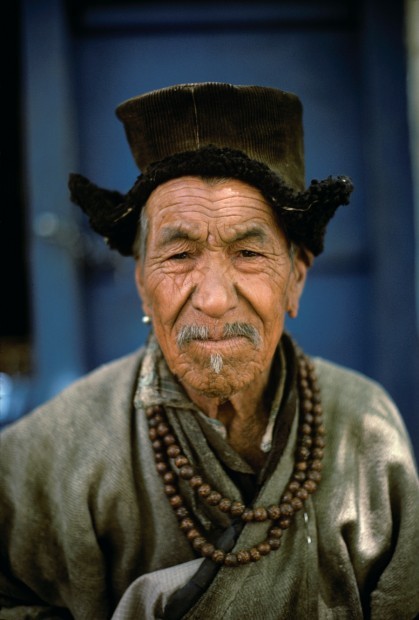 Tibet
Photo by Cheryl Arnold Moseley
Kargil nomad, Ladakh, Tibet/India border.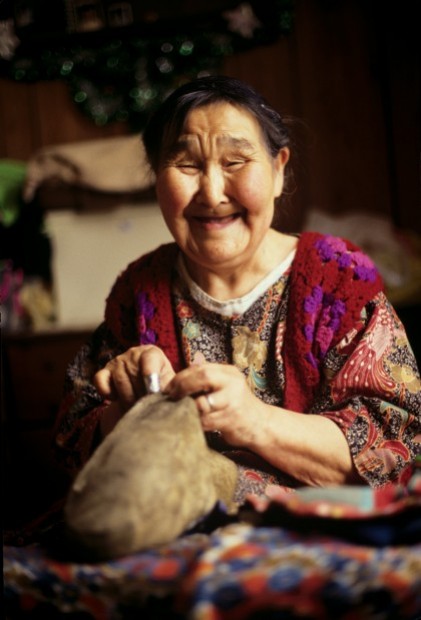 Eskimo
Photo by Cheryl Arnold Moseley
Eskimo woman sewing animal skin into a garment.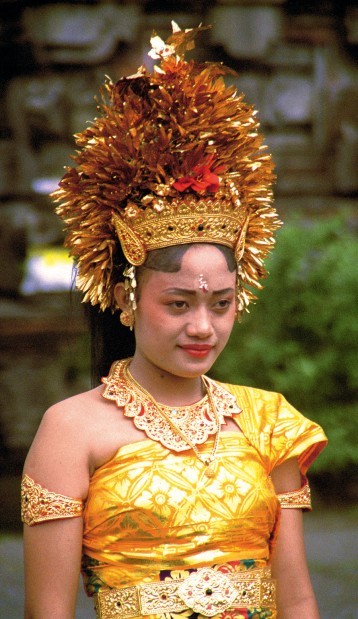 Bali
Photo by Cheryl Arnold Moseley
Bride in Bali.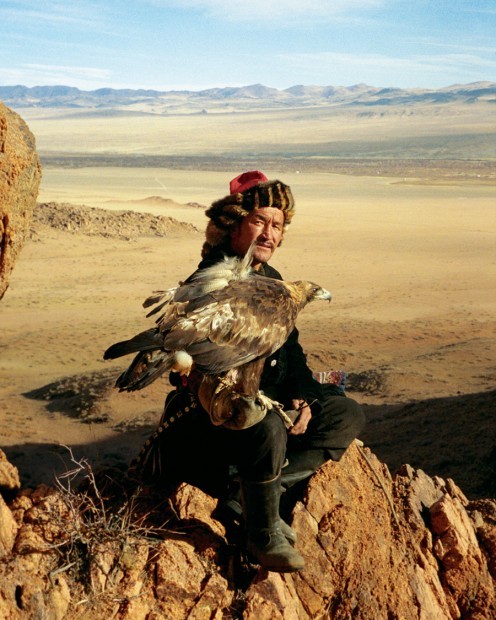 Mongolia
Photo by Cheryl Arnold Moseley
Kazakh eagle hunter in the Mongolian plains.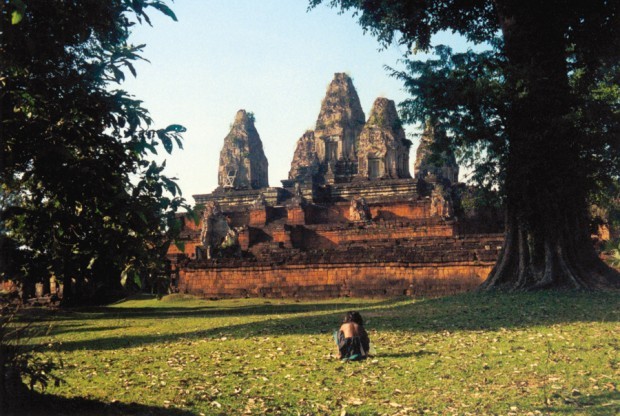 Cambodia
Photo by Cheryl Arnold Moseley
Ancient Ruins PreReep, Cambodia.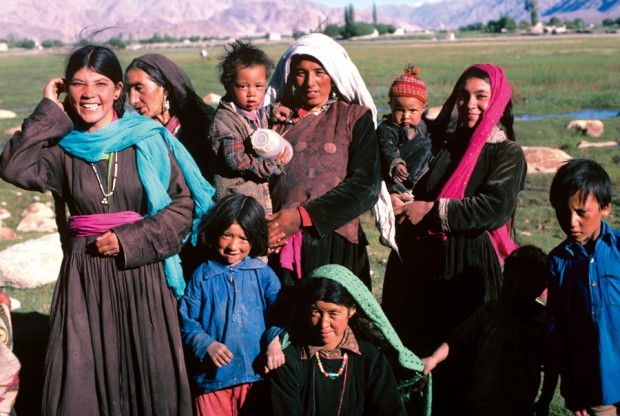 Tibet
Photo by Cheryl Arnold Moseley
Tiksay women, Ladakh, Tibet/India border.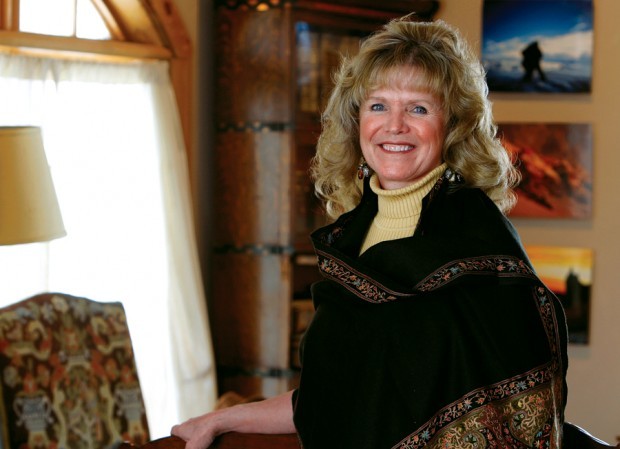 Cheryl Moseley
Photo by Casey Riffe
Cheryl Moseley in her home, wearing a shawl she brought back from India.
Eye Of The World -
Magic City Magazine / March 2010
Cheryl Arnold Moseley's adventures rival any blockbuster movie script. The 63-year-old Billings nurse and photographer served the sick and dying alongside Mother Teresa, took Tibetan Buddhism classes from the Dalai Lama and met celebrities from around the world. Yet it was the ordinary people she photographed in remote areas of the globe that most touched her heart – people like Neti and Asari.

The year was 1976. Cheryl had traveled to an isolated mountain village in India near the border of Tibet and Nepal. "The women villagers had never heard of the United States, didn't know the world was round, and had never seen a white person before me," says Cheryl.

Living in the village for more than three months, Cheryl joined the women in their daily routine, learning their simple ways. In return, the villagers accepted her as one of their own. They were curious about their new friend and the special place she came from. They wanted to know how far Cheryl walked for firewood in her "village" back home.

"They certainly didn't understand that houses could have central heating and people could drive cars," says Cheryl.

Thirty-five years later, two women of the village smile back through a photograph taken by Cheryl. Neti and Asari stand barefoot, posing with a dirty-faced baby in a bright, flowered dress. The women are covered in thick wraps with white sashes around their waists and scarves draped over their heads. They wear silver band bracelets, ornate necklaces and nose hoops that extend beyond their chins. An enduring portrait that crosses time and space.

Hidden memories, buried treasures
Neti and Asari are just two of the many people that Cheryl Moseley photographed over four decades of traveling to more than 80 countries. Though she valued her memories, her photographs remained sealed in boxes, relegated to the basement store room. The smiles, laughter, and splendor of the world remained a hidden treasure until five years ago when Cheryl's husband, John, challenged her. "He asked me, 'Why aren't you doing something with them?'" said Cheryl. "In that moment, my whole view changed, and I thought, yeah, why aren't I sharing these pictures?"

'Seeing' the world
Cheryl's artistic vision began forming long before she ever thought of taking photos. Her father was blind from birth, and she became his eyes at an early age, relaying the beauty of the world she saw.

"I wouldn't just say to him, 'I see a bird.' I'd describe the color the bird had on its wings, what its bill looked like, how it perched on a branch. All the details helped my dad picture the bird."

That same focus helped her see the world through photographic lenses. What started out as a yearning to capture the moment transformed into a desire to understand different perspectives. For Cheryl, photography became symbolic of the world she discovered as a traveler. The more places she visited, the more she understood that the world's diverse cultures and religions provided different perspectives for the people she met.

Harrowing first adventure
Cheryl began her travels in 1967. As a 21-year-old model, Cheryl was invited to tour South America with other models where she would see five countries in two months. While traveling offered the young woman adventure, she wasn't prepared for the unexpected twists in Ecuador. First, Cheryl and her entourage were thrown in jail by the local police. Shortly after being released, the young women were kidnapped by masked men, and rescued a few days later by another group of men. The women escaped by walking down a river that was chest high, carrying their belongings over their head. Cheryl didn't speak much Spanish, so she doesn't know why they were jailed, abducted or rescued.

"People were fighting over land, politics, drugs—the usual," says Cheryl. "I really don't know why we were targeted, but it was a frightening time."

After such traumatic incidents, it would have been understandable if the young woman refrained from further travels abroad. But Cheryl looked at the experience quite differently.

"I knew if I could get through that, I could get through anything," she said.

Catching the adventure bug
Cheryl's philosophy is to never let fear control her life. "We need to respect fear appropriately, but not let it overwhelm us. I would never let fear prevent me from traveling anywhere I really wanted to go."

After her South America journey, Cheryl focused on completing nursing school. Once she earned her degree, wanderlust struck again. In 1972 some friends invited her on a climbing expedition in the Himalayas. During the trip, the group became stuck for 11 days in a snowstorm. Six people slept in a four-man tent. When they ran out of food, a Sherpa offered to brave the blizzard for provisions.

"We told him to stay," says Cheryl, "but he left in the middle of the night and never returned. Once the storm subsided, we found his frozen body a quarter mile from the camp."

Cheryl and the group carried the Sherpa's body back to his village where they spent many days with his family. After a time, the rest of the climbing group made plans to return to the U.S.; Cheryl decided to stay.

"I had an open-ended ticket. I had some money saved up. And I was finished with school. I thought why not stay?"

The Nun and The Monk
For the following two years Cheryl wandered around Asia, the Middle East and Europe. It was during this time, she met Mother Teresa in Delhi at Nirmal Hriday, a home which served the dying and destitute.

"I wanted to help at the Tibetan refugee camp in Delhi, and every day on the way to camp, I saw the tiny sign for Mother Teresa's home. I decided to see what was going on there, and I wound up spending more time with Mother Teresa than at the refugee camp."

Cheryl describes the tiny nun as "a benevolent dictator." She needed to be that way, explains Cheryl, because she had to persuade the Indian government to help and charitable groups to donate. "At the time she wasn't well known or recognized for her work, not until she received the Nobel Peace Prize."
Cheryl returned several times to work with Mother Teresa, but she never snapped photos because the nun didn't like pictures taken of her or her homes. The last time Cheryl visited Mother Teresa was in 1992, and Cheryl finally asked permission to videotape her. Mother Teresa agreed. Today, Cheryl has a short video clip with close-ups of Mother Teresa and some footage of a mass where the renowned humanitarian was praying.

"In hindsight, I wish I would have been bolder and asked her if I could take photographs," says Cheryl. "That's easy to say now. But I knew she didn't like it, and I wanted to be respectful of her wishes." The Dalai Lama is another notable person that Cheryl met. In the foothills of the Himalayas, she attended the Tibetan Buddhist classes he taught on peace, tolerance and compassion. She describes him as "sweet, calm, peaceful and loving."

Some of the most memorable words she heard the Dalai Lama speak came in response to a classmate who talked about how much anger he had inside. The wise teacher explained to the man that we all have both darkness and light inside of us. It depends what qualities we want to bring into the world.

"Mother Teresa said something very similar," says Cheryl. "It's what you decide to cultivate."

Cheryl thinks that both the positive and negative sides of life need to be honored. "I don't think you can only focus on the positive or you don't see the truth. For me, it's looking at all of it, but I try not to dwell on what is dark."

Piercing the veil
In her travels throughout the world, Cheryl has seen some magnificent places: the vast plains of Mongolia, the ancient ruins of Peru, and the icy mountains of Antarctica. But it's the ordinary people—especially women—she met along the way who most touched her heart.

One time Cheryl was traveling in the Thar Desert bordering India and Pakistan and met some women by a well. They all wore veils. "Behind these feminine, flowing curtains of seclusion, all I could see were their eyes," says Cheryl.

Cheryl had her camera, but she didn't immediately start taking pictures. Instead, she smiled at the women and took an interest in the children and in the well. By trying to engage with them, she thought she would get some kind of feedback but wasn't entirely sure what it might be.

"When the women started taking off their veils, it was so touching to me," said Cheryl, tears glistening in her eyes. "They were revealing themselves; they wanted to connect in the same way I wanted to connect."

By making an effort to connect with others, Cheryl established a bond of trust. The beaming faces of the women in her photos show their ease with the woman whose eye was behind the lens. "I love that I can bring joy and interest into people's life by sharing my photographs. It's deeply satisfying."

Sharing adventures
Cheryl began by displaying a selection of photos in her husband's office, John Moseley, MD. Eventually, she opened a photography business called Eye of the World. Today, Cheryl exhibits her photographs in Billings at St. Vincent Healthcare and recently opened an exhibition in Park City, Utah.

If you'd like to see Cheryl's vast portfolio chronicling her world travels, visit her Web site at http://www.eyeoftheworld.us.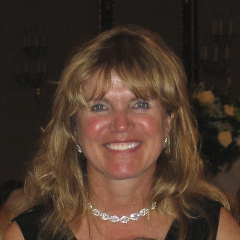 News Articles • Media Page • Home • Biography • Mother Teresa • Cheryl's Song • Photo Gallery • Contact Cheryl
cheryl@eyeoftheworld.us
P.O. Box 1318
Billings Montana 59103-1318