Download Original PDF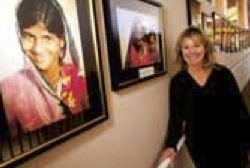 GRAYSON WEST/PARK RECORD
Cheryl Arnold Moseley is a photographer who has traveled to more than 80 countries in the past 40 years. Her work is currently displayed inside the Sheldon Richins Building at Kimball Junction.
Photos turn walls worldly
Artist has gone to more than 80 countries
By PATRICK PARKINSON Of the Park Record staff
January 2, 2010
Photographer Cheryl Arnold Moseley said she has spent the past four decades traveling to more than 80 countries on all seven continents. An exhib- it featuring Moseley's work, which chronicles her trav- els, debuted this week at the Summit County Library at Kimball Junction.
As a nurse, the 63-year- old frequently traveled in Asia where she lived for up to two years at a time and worked in villages in Afghanistan, Nepal and India.
In the early 1970s, she met Mother Theresa, Moseley explained.
"The last time I saw Mother Theresa was in '92, before she passed away," Moseley said. "She actually let me do a short video of her. She normally didn't like to have her picture taken."
Photographs of people Moseley has met in foreign lands are the focus of her exhibit, "Eye of the World."
"It has a lot of different meanings," Moseley said about the title of the show.
She said she shot the bulk of the photographs between 1972 and 2005.
Her father, who was born blind and later lost his hearing, inspired her to travel the world, Moseley said.
"My father always talked about wanting to learn about people and lives and other religions and cultures," she said. "He always felt very inspired by everything around him."
In the 1960s, she caught the travel bug for good,Moseley said.
"I wanted to see as much of the world as I could," she said.
Her favorite place to travel is the Indian subcontinent.
"That includes Bhutan, Nepal and Kashmir," she said. "I love the fact that there is so much history and diversity, all the religions and the cul- tural differences. There are other more beautiful places, but I think that what draws my heart is that real diversity."
Still, some Asian and African nations have become more danger- ous for travelers, she acknowledged.
"But I would never, even today, not go someplace because of what I hear on the news," Moseley said.
Moseley's photographs currently hang in the Sheldon Richins Building, 6505 N. Landmark Drive.
"We were so thrilled to be able to bring this talented artist to our library and we're going to leave them mounted for as long as we're able to," said Rebecca Felton, a Summit County Library board member. "She has a wonderful story to tell about her life and how she came about trav- eling the world and getting to know all of these wonderful people."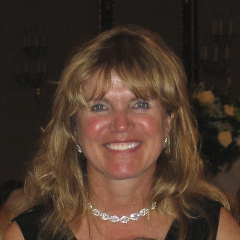 News Articles • Media Page • Home • Biography • Mother Teresa • Cheryl's Song • Photo Gallery • Contact Cheryl
cheryl@eyeoftheworld.us
P.O. Box 1318
Billings Montana 59103-1318